Two years ago, Rad Campaign partnered with Lincoln Park Strategies and Craig Newmark of craigslist and craigconnects to conduct a national poll on online harassment. This year, our team conducted a follow-up poll to see what shifts, if any, have occurred since 2014. The poll data has been released in the form of an infographic.
What we found is that despite social media platforms' implementations of policies to combat this, online harassment is still a widespread issue. Twitter recently made an attempt to stop online harassment when Ghostbusters 2 star Leslie Jones spoke out about her racist and sexist harassment on the platform.
In an interview with Seth Meyers, Jones said she teamed up with the CEO of Twitter to get several accounts shut down. Before Twitter's CEO stepped in, however, Twitter offered up this statement with a link to their rules:
Jones emphasized the differentiation between hate speech and freedom of speech. Even though Twitter did shut some of the harassers' accounts down, it was not done very timely, which calls into question the priority and resources social networks place on responding to harassment.
Sexist harassment is still a big issue across the internet. According to our poll, of people harassed online, women are almost four times more likely than men to have experienced sexist harassment.
"Social networks are not being very successful in stopping this problem from the top-down, but they can't do it alone," said Craig Newmark, whose craigconnects initiative supports online civic engagement. "It's up to all of us, as users, to do our part to report bad actors and to encourage civility. 'Treat people the way you want to be treated' applies online, just as it does in the real world."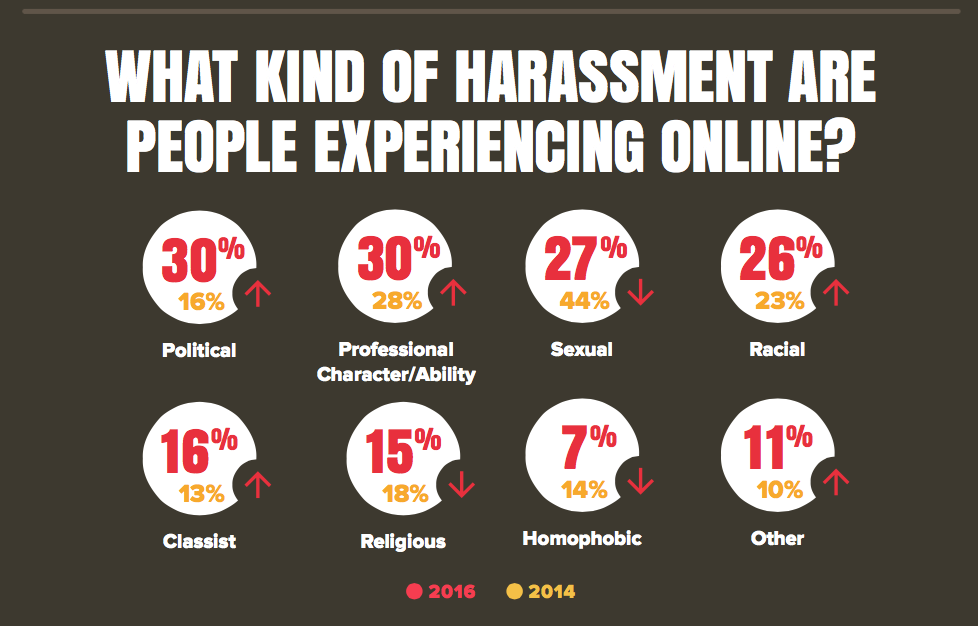 With the increased attention on the 2016 Presidential election, it might come as no surprise that political harassment has almost doubled over the last two years. But what might be surprising? Boomers actually experience political harassment more than any other generation, with more than 3/4 of adults ages 55-64 who are harassed online experiencing political harassment (79%).
Here are some key findings from the 2016 poll:
Across all platforms, Facebook is the dominant location for harassment, even among heavy Twitter users.

Tinder users report the highest levels of online harassment. 62% of daily Tinder users (3/4 of whom are millennials) say that they've been harassed online.

Harassment is not anonymous. In almost 2 out of 3 instances (61%), respondents report knowing their harassers.

Younger people are harassed more than older people.  47% of millennials have either personally experienced harassment, or know someone who has. This percentage remains unchanged since 2014, despite policies implemented by social networks to address this.

Women are harassed more than men. Of adults who reported harassment in 2016, 55% are women; 45% are men. The number for women is slightly down from 2014; for men slightly up.

Harassment via email has increased.  As more people use email daily, email harassment has risen from 20% to 25% from 2014 to 2016.
 
"While there are a few pieces of good news in the data, overall we still have a long way to go to solve this pressing problem," said Stefan Hankin, President of Lincoln Park Strategies. "Given the amount of attention that online harassment has received over the past couple years since we polled in 2014, we would expect to see more dramatic shifts in the numbers, but that was not the case. If companies, and we as individuals, are looking to truly solve this problem, we are going to need to rethink our approach."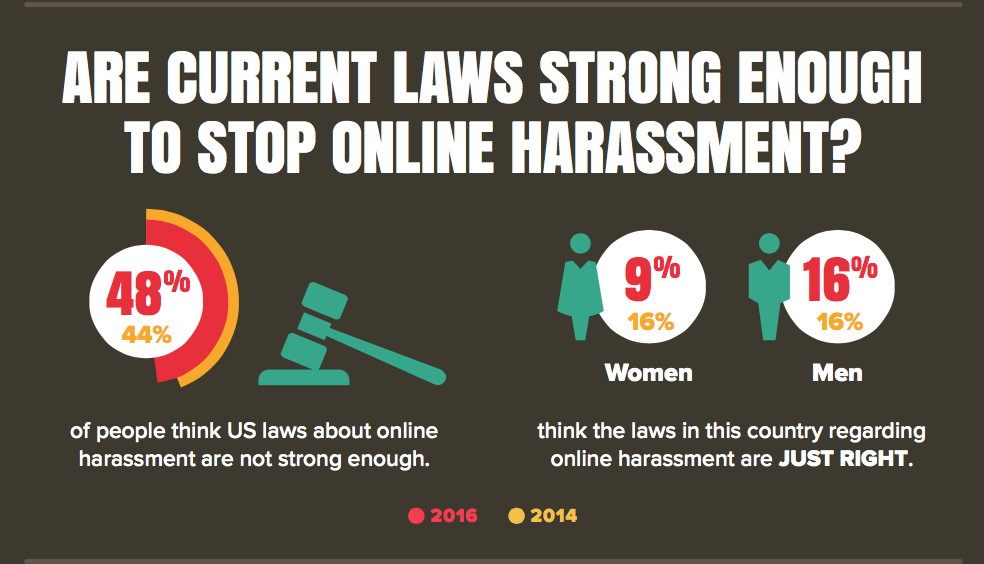 Eradicating online harassment won't be easy, as we've seen, but it's time that we put even more pressure on social networks to implement policies, efficient tools, and algorithms against online harassers. As Leslie Jones has reiterated, there is a difference between freedom of speech and hate speech. Threats, bullying, and harassment are unacceptable, and we shouldn't let ourselves become desensitized to them.
You can view the full infographic here.
How much responsibility do you think social networks and online communities have in combating online harassment?
The poll was conducted by Rad Campaign  Lincoln Park Strategies, and Craig Newmark's  craigconnects initiative. 1,017 Americans ages 18 and over were polled about their experiences with online harassment. The margin of error is ±3.07 percent at the 95 percent confidence level.